CHIEF DATA & ANALYTICS OFFICERS FALL 2022
Meet us for the in-person gathering for data and analytics leaders in North America Booth #8 | October 10 - 12, 2022 | Westin Copley Place | Boston, MA
SAVING LIVES BEFORE DISASTER STRIKES
SEEDS is highly disaster responsive with our predictive AI model that drills data down to the house level and helps them save thousands of lives from floods and other natural calamities.
View Case Study
GRAMENER NAMED IN GARTNER'S MARKET GUIDE FOR AI SERVICE PROVIDERS
Published 26 July 2021 - ID G00732756 - 14 min read
View News
LOW-CODE DATA & AI PRODUCTS
Rapidly building custom Data & AI products using Gramex, a low-code platform for enterprises
Explore Gramex
INSIGHTFUL DATA STORIES
We convert useful, non-obvious, and big insights into viral and memorable stories
Request a Demo
GOLD MICROSOFT PARTNER
Gramener announces Gold ISV partnership with Microsoft to provide insightful data analytics solutions
Read News
Since 2011, Gramener has been simplifying data insights to aid decision-makers across industries. As Data and AI partners, we work with some of the most reputed global brands in Primarily the Pharma & Life sciences, Supply Chain & Analytics, ESG, and Technology sectors.
From helping researchers identify fish species to improving the pharma manufacturing process and installing nextgen warehouse operations solutions, our offerings focus on providing scalable and flexible Data and AI solutions to clients. Many global brands leverage our products, platform, and services to improve operational efficiency, reduce costs and heighten customer or partner experience.
BUILD DATA & AI PRODUCTS
WITH GRAMENER
CHECK OUT OUR IMPACTFUL
SOLUTIONS
WE ARE THE DATA & AI PARTNER FOR OVER 200
LEADING ENTERPRISES WORLDWIDE
HOW CAN YOU ENGAGE WITH GRAMENER?
Here's What Our Clients Are Saying
Lucas Joppa
Chief Environmental Scientist, Microsoft AI for Earth
This project by Gramener is a good showcase of an AI-driven solution that addresses challenges faced by the Nisqually River Foundation."
Nick Nikols
VP - Strategy, Micro focus
Gramener's expertise in providing effective ways to visualize complex data sets and processes is helping us make our products more interactive and more intuitive."
Phani Mitra B
VP - Analytics & Strategy, Dr. Reddy's
The analytics-led innovations program in our R&D received a good fillip with contributions from Gramener team, primarily on unstructured data (Images & text extraction from documents)."
Renee Hammitt
VP of Business Intelligence, Conduent
Gramener built a data marketplace which brought reports from multiple reporting platforms on to a single web interface. The experience working with Gramener was excellent."
Romil Ramgarhia
COO, BARC India
Gramener's expertise in generating creative as well as readable data visualizations helped BARC provide an insightful tool to our stakeholders for better data analysis."
Dan Morris
Principal Scientist and Program Director, Microsoft AI for Earth
We need to rapidly prototype AI applications for conservation, and it's been fantastic to have Gramener on board as our Advanced Development Team."
Praveen Ummareddy
Group Analytics Specialist, NTT Global
Gramener's expertise in providing effective ways to visualize complex and standalone data sets and processes is helping us understand key drivers in our services business."
Arnab Goswami
Editor-in-chief, Republic TV
I am very proud of the association with Gramener. Election coverage will be an all new, refreshing experience on Republic. By teaming with the world leader in data visualisation Gramener, we will give Indian viewers never-seen-before cutting edge graphical representation of data."
Rohit Saran
Editor, The India Today Group
We are fortunate to have a partner like Gramener, which is helping us see the twin forces as an opportunity rather than a threat, and helping us make most of the opportunity."
Sharlin Thayil
Hub CEO (AP, MPCG), Bharti Airtel
We began our partnership with Gramener around September 2011 in data analytics and visualization. This has resulted in faster decision-making, leading to improved operational performance and smarter go-to-market strategies."
Nandu Gattu
VP, GVK Bio Sciences
Gramener's visualization tools and algorithms are very useful in our ongoing Drug Repurposing analytics work. The tools and technology increased our efficiency and productivity."
Sundararajan G B
MD, Suguna Foods
Gramener's business intelligence helps us take the right decisions at the right time and we also get value for money."
DATA SOLUTIONS CUSTOMIZED
FOR YOUR INDUSTRY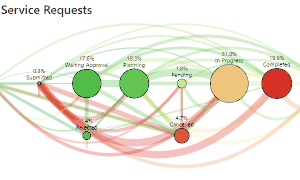 Process Workflow Optimization
Realtime Data & AI solution to address process optimization problems in customer service. Automated analysis, natural language generation with interactive storytelling to reduce turnaround time.

Download Case Study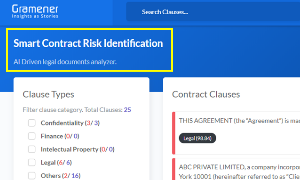 Smart Contract Risk Identification
Smart AI solution to optimize time spent on Legal Documents review. Analyze for critical and non-critical clauses and draw attention to what is important and provide auto suggests, integrate with established workflows.

Download Case Study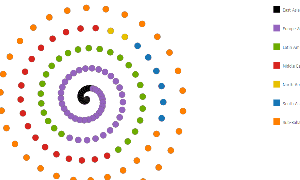 Guided Analytical Storytelling
Unique Data Storytelling experience provided to Networked Readiness Index of World Economic Forum data. Analysis of 1800+ variables, automated narratives , interactive visuals and guided exploration for insights.
Try Demo